When we discuss beauty, makeup or skincare tips, we often pay more attention to the physical appearance of things rather than the underlying cause. This is understandable as we attend to what we are able to notice. However, one area of skin that is worth the same level of our tender loving care is our scalp. Did you know that your scalp ages six times faster than facial skin?
The lack of scalp-care awareness comes at no surprise, with all the attention in hair care mainly lying on the health, style and colour of your tresses. In this article, we discuss the importance of scalp-care and how you can include it in your beauty regimen.
What are signs of an unhealthy scalp?
To start, how would you know if you have an unhealthy scalp? Here are some tell tale signs that you may notice:
Acne
Irritation
Itching
Flakiness
Accumulation of dandruff and scale
Redness
You may also notice weak, thinning hair or excessive hair loss occurring in the case of an unhealthy and ageing scalp too.
Possible causes
These symptoms may appear due to several reasons. Firstly, just like your hair on your skin, your scalp is made up of individual hair follicles with the sebaceous gland producing sebum. When there is a buildup of sebum and dead skin, it blocks the hair follicle and accumulates dirt. This causes itching, irritation and acne and affects hair growth. On the flipside, it is possible that your scalp becomes too dry due to excessive washing or harsh products, which causes flakiness.
Other reasons that can influence your scalp health could also be stress, medications, dietary changes or hormonal fluctuations. For external factors, UV radiation, pollution, chemical stress and extreme heat and cold are just some of them. These lead to oxidative stress, which is the main external cause of skin (scalp) ageing that causes weak and thinning hair.
So why is scalp care important and how do I take care of it?
Many of us regard taking care of our hair as important because all of us want to look good, and part of achieving that is maintaining a healthy scalp. This is because it helps set a proper environment for hair to grow.
With what we have mentioned so far, cleansing and exfoliating your scalp regularly is important in ensuring that it stays clean and clear. Keeping it hydrated with enough moisture is also crucial in facilitating healthy hair growth.
As for what products you should use that are suitable for your scalp, there are specific hair products that target nourishing your strands from the roots. From Goldwell Singapore, their Kerasilk Revitalize line rejuvenates your scalp with unique products that aim to counteract and protect against the key signs of scalp ageing. Inspired by luxury skin care, the unique products are enriched with ECTOIN®; one of nature's most powerful protectors against oxidative stress.                                                     
There are three product types suitable for different hair types, the Nourishing line for dry and sensitive scalp, Detoxifying line for unbalanced and oily scalp and Redensifying line for weak and thinning hair. The products are engineered with keratin and lightweight silk to provide structural support and colour protection, alongside a third specialised ingredient in each that delivers results specific to each product type. The Nourishing, Detoxifying and Redensifying range includes a shampoo and serum each.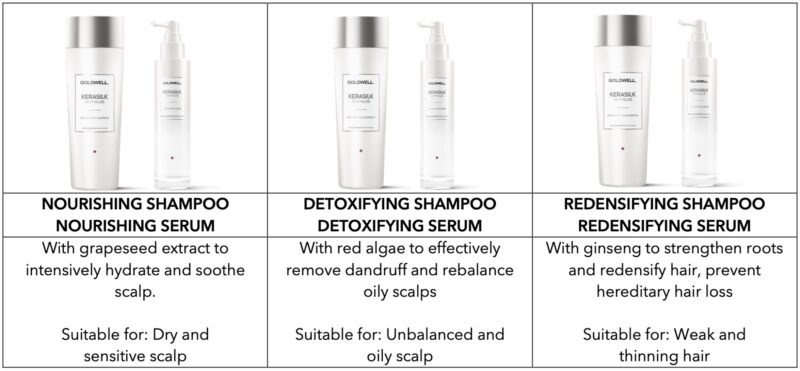 As for conditioners, you can be sure to find one that suits your hair needs with Kerasilk's assortment:
In just three simple steps, you will be able to transform your scalp at home to reveal healthier and more youthful looking hair.
To achieve the full rejuvenating Kerasilk Revitalize scalp care experience, visit Goldwell partner salons for in-salon treatments that deeply yet gently purify and rebalance the scalp while providing lasting moisture and protection against environmental conditions. It consists of a 4-step treatment that includes an exfoliating pre-wash, shampoo, rebalancing scalp foundation and serum.
With the full treatment, you get to experience the exceptional and long-lasting results for all types of scalp and hair needs, while the home care products help to extend the Kerasilk experience.                                      
The Kerasilk Revitalize home care range and in-salon treatment is available at all participating Goldwell salons. Find the salon closest to you using the Goldwell salon finder tool: https://www.goldwell.com/en-sg/salonfinder/. For more information, contact Goldwell on Instagram.