New variety show 美发达人 The Hair Makeover Gurus, challenges hairstylists from eight salons to give models a hair makeover, while solving various hair dilemmas they have. 
Here's a sneak peak:
 

 

View this post on Instagram

 
You may recognise a familiar face as the host of the new 8-episode series is Aarah Wong, one of the artistes signed under actor Li Nanxing's management company LNX Global. The show also features Pei Shi, a content creator known for her bubbly personality and beauty knowledge, who brings her friends onto the show for makeovers.
Aired monthly from 18 June, the mPlay Asia series is powered by Goldwell and the hairstylists use the brand's permanent hair colour, styling and homecare products. 
Here's what we know from the first episode:
Pei Shi brings in her friend, Gen Z University Student Felicia who is seeking to get her first job after graduation. As a concerned friend, Pei Shi worries that her look is too demure and soft-spoken for the working world. Thus, she recruits the help of Simon Tiong, a Senior Master Stylist of Shunji Matsuo who specialises in Hairstyle Design and has spent 20 years in the industry.
The task? To turn mei mei (little sister) Felicia into a professional and mature-looking employee.
Aarah mentions that young people have their own thoughts and opinions on appearance, asking Simon if there would be disagreements on the look hair stylists suggest. Simon answers yes and so, there may be a need for more understanding towards the clients' own opinions.
This is the case for Felicia – she likes Blackpink's Jennie's hairstyle but it doesn't suit the goal of looking professional and mature. However, there's no conflict when deciding on the course of action. Simon discussed with Felicia and incorporated both of what she wants and what he professionally recommends.
Firstly, he trimmed away her dry split ends. Then, he simply adjusted the volume of her hair and it immediately felt smoother on one side compared to the side that wasn't cut yet. He thinned it to balance the thickness as well. 
For the colour, Felicia wanted something like Jennie's moneypiece highlights. As it may be too striking and unprofessional, Simon took in her request but gave her softer colours. Overall, he gave her french highlights to enhance the layers of her hair. This provided more contrast, energy and confidence. The makeover finished and Felicia emerged with a healthy and dimensional look, with a pinkish brown base and added pink highlights.
 

 

View this post on Instagram

 
Was Pei Shi's goal of helping Felicia look more professional? Yes! She even said she was scared to talk to Felicia now.
As an extra treat for you Salon Singapore Social readers, here are some special BTS shots of the new mini series.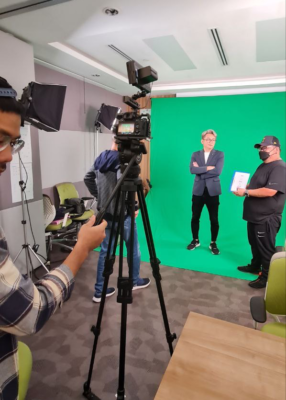 Catch Felicia's fabulous makeover in the first episode of the variety show on mPlay Asia and all the latest show updates from Goldwell on Instagram and Facebook.