Since the brand's inception in 2008, fragrance has always played an essential role in the overall Oribe experience, in their hair products and beyond. 
Just a little background on the luxury brand: Oribe's founder Oribe Canales was born in Cuba and he opened his own top salon on New York's most luxurious Fifth Avenue. His clientele-turned-best-friends include famous models such as Naomi Campbell, Cindy Crawford, Christy Turlington and others. Then, he did Jennifer Lopez's hair for her debut album and he was in demand in the fashion industry. He launched Oribe products and the rest is history. 
Oribe is the first brand to use high-end perfume and fragrance technology in hair care products. Anyone who has come across the brand would understand. Whatever your choice of product, each one is a delight to our sense of smell.
Their existing perfume collection consists of one fragrance with a scent that you might be familiar with, even if you have only shopped in their hair collections. That would be the iconic Côte d'Azur signature scent Oribe is known for, present in their hair products.
Inspiration behind the fragrance
Now expanding its lifestyle collection with the addition of two new fragrances are Valley of Flowers and Desertland. 
A modern interpretation of a lush floral scent, Valley of Flowers immerses the wearer in a fragrant field of fresh blooms. A harmonious blend of Bulgarian rose, peony petals and warm amber creates a dreamlike place that evokes the feeling of a morning walk through a sun-drenched garden.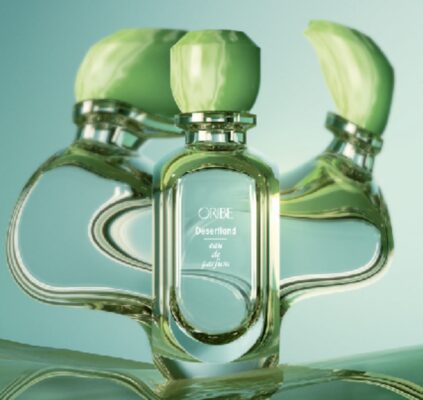 For Desertland, its bright, crisp notes of juniper berry, desert wildflowers and Texas cedarwood embodies the essence of a blooming desert, transporting the wearer to a peaceful and powerful place. This aromatic green scent was inspired by President and Co-Founder Daniel Kaner's trip to Marfa, Texas, and captures both the sandy heat of the day and cool vastness of the still night, a scent that only nature can produce.
And what's a good fragrance without beautiful packaging? Oribe never misses with their product design and packaging and these new fragrances prove it. The bottles are inspired by post-modernist art and architecture, featuring elongated oval shapes and a sculptural, one-of-a-kind resin cap whose color echoes the scent within.
The art of designing the bottle
Oribe partnered with a glassmaker located in Normandy, France that has specialized in producing fragrance glass bottles since 1892. Each Oribe bottle is hand-polished and inspected by the atelier's master craftspeople, and is minimally decorated to allow the artisanal quality of the glass to shine through. Each resin cap is unique in color, so no two will look exactly alike. 
The new Oribe perfumes are available at these Oribe salons in Singapore: