No matter what industry it is, we can all agree that sustainability is one of the next big factors when it comes to products. This is no different for the beauty scene where cosmetics, haircare and even fragrances are jumping aboard the sustainability train. 
So when Oribe announced their new refill pouches to encourage replenishing your hair care bottles instead of replacing them, it was no surprise from a brand that puts much thought into their products. Plus, read till the end for a special promotion!
Big hair, small carbon footprint
If you're already enjoying Oribe's hair products, these new refill pouches allow not only your hair to enjoy some luxury benefits, but the environment too. The introduction of new refill pouches for their bestselling liter-size shampoos and conditioners incorporates the brand's design heritage with its continued commitment to sustainable packaging. 
The new liter refill pouches use a significant 71% less single-use plastic than the usual large-format liter bottles. With the refillable system, it encourages the reuse of their beautiful liter bottles, which we must admit — are too beautiful to dispose of.
Did you know? Carbon emissions are also reduced in transport because of the way the pouches are compact, allowing more to be transported at each time. They're also manufactured locally and production produces less material into the waste stream.
"At Oribe, we know everything matters and are always looking for new ways to make our packaging more environmentally friendly, from using Forest Stewardship Council-approved cardboard for our outer cartons, to our new, recyclable glass perfume bottles," says Jennifer Smith, VP of Packaging for Oribe Hair Care. "We designed the liter refill pouches as another step in our ongoing journey to create products that uniquely blend luxurious craftmanship with the highest standards of sustainability."
 

 

View this post on Instagram

 
Introducing their new refill pouches for their bestselling litre-sized shampoos and conditioners: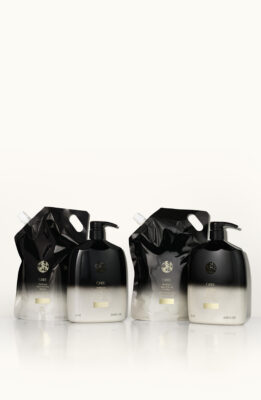 Ultra-hydrating duo that moisturizes and revitalizes by reversing existing damage, restoring hair to a more youthful state.
Gold Lust Shampoo Size: 1 L/33.8 fl. oz. | RSP: $198 SGD 
Gold Lust Conditioner Size: 1 L/33.8 fl. oz. | RSP: $230 SGD
Restorative cleanser and conditioner that offers intense moisture and repair, as well as protection against color fading for ultra-beautiful color.
Shampoo for Beautiful Color Size: 1 L/33.8 fl. oz. | RSP: $186 SGD 
Conditioner for Beautiful Color Size: 1 L/33.8 fl. oz. | RSP: $212 SGD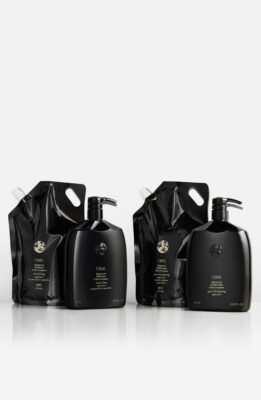 Rich, daily cleanser and conditioner that provides hydration to silken, detangle and protect strands.
Signature Shampoo Size: 1 L/33.8 fl. oz. | RSP: $186 SGD 
Signature Conditioner Size: 1 L/33.8 fl. oz. | RSP: $198 SGD
In addition, spend $150 on any Oribe products this month and get a Hair Alchemy kit (worth $44) free, which includes the Hair Alchemy Resilience Shampoo, Hair Alchemy Resilience Conditioner and Hair Alchemy Fortifying Treatment Serum!
For more information, contact Goldwell on Instagram or purchase the new Oribe liter refill pouches at Oribe salon partners nationwide here: