There's no doubt that we turn to celebrities for major style and beauty inspiration. Whether it is the next Netflix show we're binging on or the next big K-pop star we're playing on repeat, we easily find looks that we love and want for ourselves. For Goldwell National Artist Justin Javier Tan from Shunji Matsuo Hair Studio, he gains inspiration from his travels and experiences, specifically in Japan. In his latest creative hair collection, the looks he created is sure to have you itching to visit the salon for a hair refresh soon.
Justin's personal touch on his creative collection pays homage to his friends who have greatly influenced him on his many travels to Japan over the last decade, where he learned about the nuances of Japanese hairdressing and coloring. 
In his hair collection, elements of softness and texture have been translated into the designs of his versatile looks, which perfectly showcase the hairdressing trends from Japan that are also in demand from consumers in Singapore.
For the collection, he uses Goldwell's latest Japanese hair colour range, Newance by Topchic that gives you an unmissable edge. Made from original Japanese formula and ingredients together with Germany's high-performance color technology, the hair dye encompasses a sophisticated and modern colour range.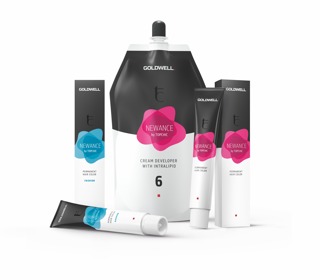 It is expertly designed to deliver the coolest and smokiest colour results with luxurious shine like no other, especially for Asian hair tones and complexions. Want to give the dye a try? Have the option to choose from a wide variety of shades too; the new hair color range comes in an expansive colour palette of 44 shades that covers both warm and cool tones with smokey hues.
Newance by Topchic provides colour that is lasting and brilliant while maintaining supremely soft and smooth hair. According to Justin, the colour cream is a joy to apply on hair as it is infused with nourishing Camellia Seed Oil, which makes the hair smooth while protecting hair fibres. The head-turning result? Smoky hair colours of your dreams that doesn't compromise on your hair health and a radiant effect that makes a statement.
Other key features that Justin love about the Newance Fashion colours:
Smokiness Control: All the shades use a neutral smoky base to control the reddish and yellowish undertones naturally found in Asian hair types.

IntralipidTM Technology: Goldwell's proprietary technology leaves hair feeling satiny soft and ultra- sleek.

Coenzyme Technology: Patented technology neutralises free radicals to prevent hair from damage as it delivers extraordinarily brilliant long-lasting colour while being ultra-gentle to hair.
Interested in achieving such looks from Justin or trying out the new Newance Fashion colours? Contact Shunji Matsuo here or Goldwell Singapore here for more information.
About Justin Javier Tan
Justin has been with Shunji Matsuo since 2003. He started from the bottom as an apprentice, and now has a total of 19 years of experience under his belt. Currently, he is in charge of the Education Team for the salon.
In terms of knowledge and skills, he has attended courses with established academies in London and Japan. Falling in love with colouring, he did his own studies to better understand the theory of colour and is well versed with various hair colour products.
Justin is an advocate for education and strongly believes that strong knowledge is the key to a successful career, having conducted seminars for the salon and various companies.