Looking for new hair inspiration and have been itching for new hair trends lately? 
In 2021 we saw fresh trends like the peekaboo hair colour or moneypiece highlights take over our social feeds. It proved that even though these new styles may not be what we are used to, taking the leap to try something new could be worth it. It's easy to appear stylish and chic effortlessly, as long as you nail the correct looks. 
Hair experts and Goldwell Hair Artists Justin Javier Tan from Shunji Matsuo and Dylan Tung and Yuujin Ho from Evolve Salon shine a spotlight on 5 new hair trends that will dominate your social feeds this year. Read on to find out what they are and get ahead of the curve. Perhaps it'll even give you the nudge to call your hair stylist to book an appointment asap.
The Funky Skunk
You may be familiar with this two-tone trend if you follow Korean popstar Lisa from Blackpink or American celebrity Miley Cryus. According to Yuujin, this effortlessly cool and rocker-chic style is flexible, accommodates all face shapes and can be done on both straight and curly hair types. The look has evolved from just blondes and blacks to colourful variations. Feel free to customise the colours and streaks that you prefer but maintain a stark contrast between colours to keep the feature that gives the look its status.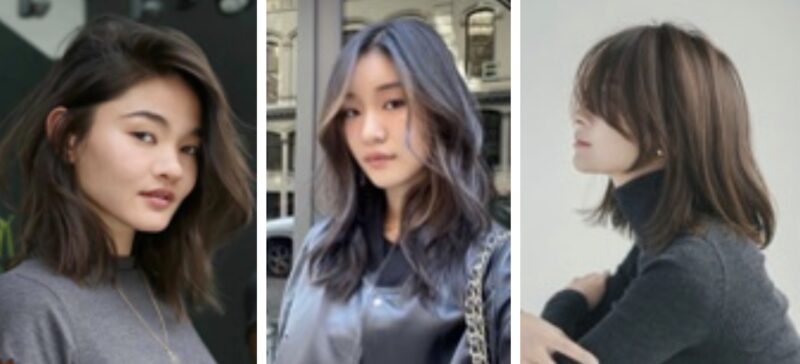 Barely Lights
Want something more natural but still have that added spice? This trend ticks all the boxes of adding some interest to your hair colour while keeping it natural and low-maintenance. According to Justin, blending two to three colours of slightly different brightness and applying them to streaks of varying thickness strategically can achieve elegant nuances. The best perk about achieving this hairstyle? Your hair doesn't have to be pre-lightened.
Shades of Grey
It's 2022 and if you have started spotting strands of grey hair, it's time to embrace them. It's only natural and since you already have these naturally 'coloured' strands, why not take it up a notch and have fun with them too with some grey-blending? Justin recommends growing them out and converting them into highlights (without all that bleaching!) for a super chic look. We can't forget to mention that doing this is better for the health of your scalp too.
All 'Bout Bobs 
Want to experiment with a shorter hairstyle but worried about going too short? Fortunately, there are all sorts of bob hairstyles out there and you can customise the look to the length that you desire. Dylan adds that they're also great for all face shapes. We know how troublesome it can be to have to dedicate extra time in the rush-hour mornings to style your hair. To solve this, opt for a length that already defines your features and enhances your natural hair texture. Haircuts are meant to flatter and be effortless after all.

2021, Once More
Still wearing those wispy bangs, centre partings and balayage from 2021? Good news for you – you can continue rocking the look into this year as they remain on-trend. It's no mystery why so, with how infinitely versatile and wearable they are. Some trends come and go, but for this fashion industry and celebrity-loved look, it's here to stay into the new year.
Interested in any of the looks above? Achieve the looks at Shunji Matsuo or Evolve Salon, or find out more information from Goldwell Singapore here.
Goldwell Hair Artists